Organic joggers in olive french terry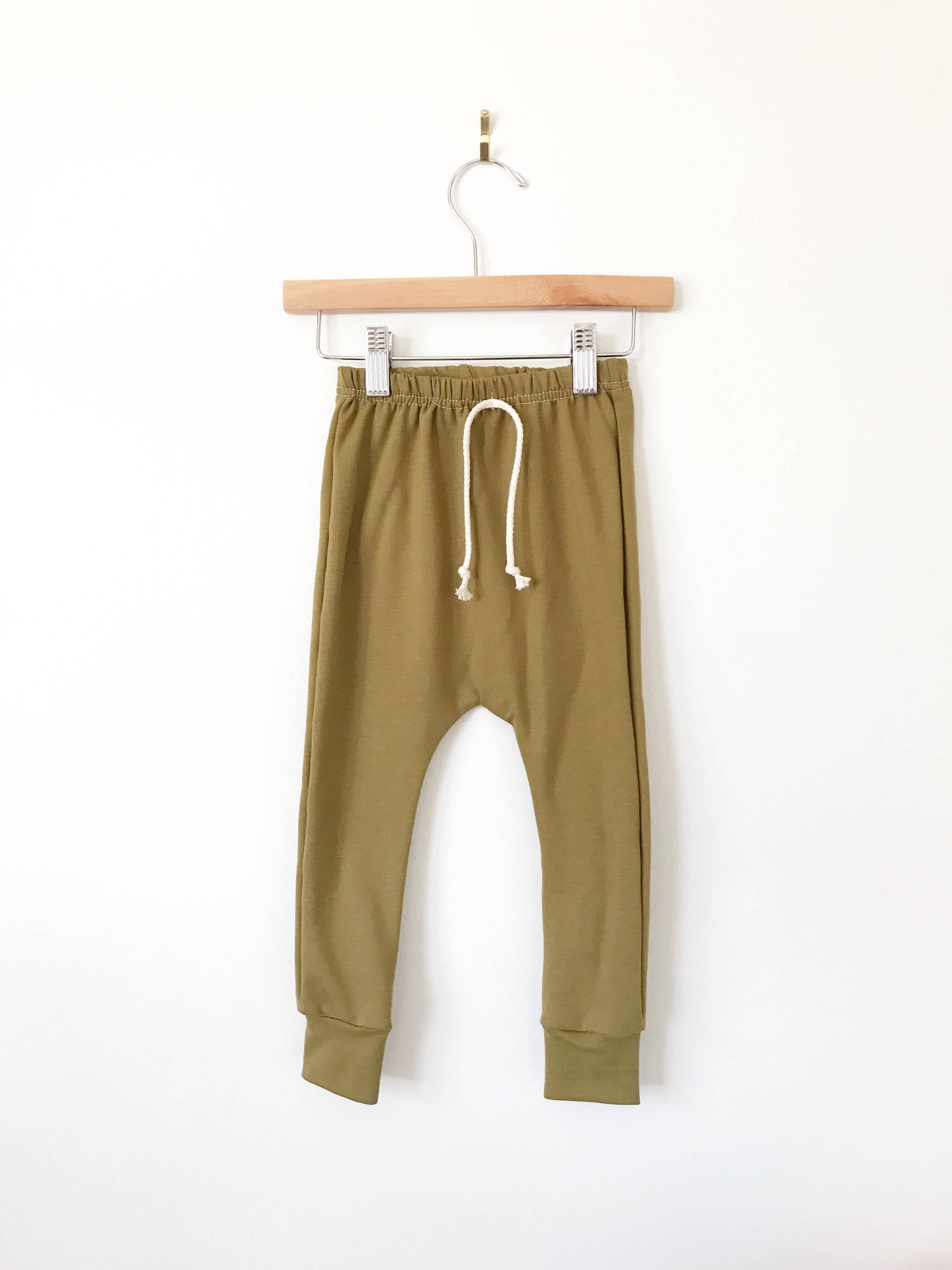 Organic joggers in olive french terry
This jogger style pant is a customer favorite for a reason! It features a drop crotch/harem style and a decorative drawstring all in our wonderfully soft bamboo / organic cotton blend french terry in olive green. This style has a longer leg and looser bum than our regular leggings - perfect for taller kiddos, cloth diapers or just for a super cute slouchy look! Please note that the drawstring is purely decorative to comply with safety guidelines.

>>> F A B R I C<<<
These stylish pants feature a super soft bamboo & organic cotton blend french terry produced in the USA that is certified organic by global organic textile standards so you can feel good about dressing your baby in these day after day! We serge all seams for added durability and strength and use high quality braided elastic for the waistband.

>>> S I Z I N G<<<
Our leggings run pretty true to size, but if in doubt we suggest you size up. It's better to have them too big than too small! Here is our general size chart:

Size // Height // Weight

Newborn // up to 17 inches // up to 7 pounds
0-3 months // 17-23 inches // 7-12 pounds
3-6 months // 23-27 inches // 12-17 pounds
6-12 months // 27-29 inches // 17-22 pounds
12-18 months // 29-31 inches // 22-27 pounds
18-24 months // 31-33 inches // 27-30 pounds
2T // 33-36 inches // 30-33 pounds
3T // 36-39 inches // 33-36 pounds
4T // 39-42 inches // 36-39 pounds



>>>C A R E<<<
Washing instructions:
machine wash in cool water on a gentle/delicate setting. For best results line dry. Our Lola & Stella tag (which includes basic washing instructions) is sewn on to the inside waistband.

>>> P A C K A G I N G<<<
All items come in pretty Lola & Stella packaging. Are you sending this as a gift? Add on our adorable gift wrapping

>>> S H I P P I N G<<<
Please note that each item is made to order so there is a turnaround time of approximately 2 to 3 weeks. Please choose your sizes accordingly. We will do our best to get your item out to you as soon as possible!<<<

All items in my shop are handmade with love and Lola & Archer approved!